Hinged Patio Doors vs. Sliding Patio Doors
Both hinged and sliding patio doors can create a functional and beautiful access point between your home and patio. But each type of patio door has different features to consider.
Patio doors create a convenient entryway between your indoor and outdoor living spaces. The differences that distinguish hinged and sliding types of patio doors are important to consider when shopping for a new or replacement patio door to complement your space.
With the right information about each offering, you can transform the look and function of your room. Read on for more information about what separates hinged and sliding patio doors.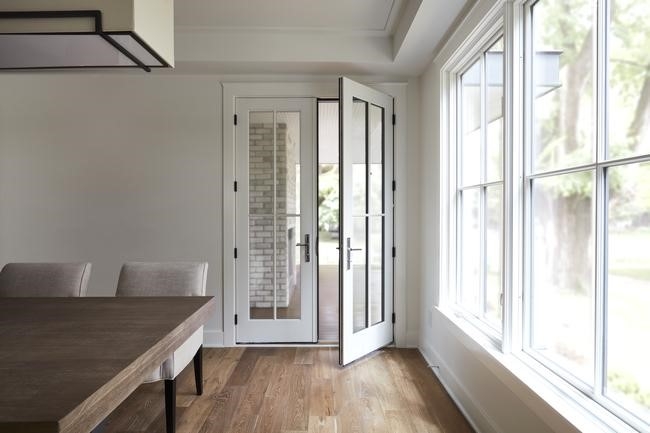 When choosing the right door for your home's patio, many people are not sure if they should go with a hinged or sliding patio door option. Therefore, understanding the pros and cons of each door type can help make your shopping experience a lot easier. Especially when deciding on what is convenient and optimal for your home. Keeping this in mind, it is now time to analyze both the advantages and disadvantages of hinged vs. sliding patio doors. Before we do this, however, let us define the two door types.
Hinged Patio Doors:
A hinged patio door typically consists of either a solid wooden panel or a hollow-cored door affixed to a door jamb with two or more hinges. Quite usually, new hinges are generally required to support taller doors that are beyond average height. For these exceptions, stronger and sturdier hinges are needed for heavier and bigger doors. Of course, the door size will depend on your homes patio size and relative size of the room it is installed in.
Keep in mind that, hinged doors are opened by pushing on the door which will open it from the inside.
Sliding Patio Doors:
As opposed to opening outwards, sliding patio doors are designed to glide horizontally with one operating panel and one stationary panel. They fit into tighter spaces in comparison to hinged doors since their panels don't interfere with your room or patio. These doors slide from side to side and are generally more aesthetic in any room in the home due to the fact that they are great for large patios/rooms and don't take up much space.
Advantages of Hinged Doors:
When looking at the advantages of installing a hinged door, it becomes clear that there are a lot of benefits. These include,
-The ability to fully open the doors without any limitation or restrictions of just opening side to side
-Considered to be a more traditional option. Therefore, you are more likely to find a better range of doors in different sizes and finishes to fit your space and cater to your homes unique structure.
Disadvantages of Hinged Doors:
In regards to the cons of installing a hinged door, the following may be of concern:
-Hinged doors will usually take up more room as they have to swing outwards when open. As a result, if you don't have a great deal of space in your patio, then you might want to consider the advantages of sliding doors.
Open Up Your Home with Hinged Patio Doors
Sophistication is often the aim when a homeowner opts for hinged patio doors. They are a classic choice. Functionally, hinged patio doors stand apart from sliding patio doors because they are hinged at the sides and can either swing in or out, depending on what works best for your space.
Pella® Architect Series® patio doors can be tailored to accommodate a variety of styles. Exquisitely crafted, our hinged patio doors can complement a more traditional architectural design. If you are interested in something more contemporary, there are several modern color choices along with an assorted collection of minimalist hardware to complete the look.
In terms of function, hinged patio doors from Pella come in two different styles: either two operable doors that swing open from the sides, or a single hinged door.
Single Hinged Patio Doors
Simple elegance is a hallmark of a single hinged patio door. It is one door panel and can provide a more formal entrance, often linking to a deck or even a sunroom. You may see it paired with large windows to create the appearance of a wall of glass. Single hinged patio doors are frequently found in spaces with less wall space. They can be customized with additional features to add character to your home's design.
Available door combinations include a single hinged door with a left or right sidelight, or both. Transom windows can be placed above the door regardless of what type of sidelight you choose.
Double Hinged Patio Doors
If one is not enough, double hinged doors are the answer. This style features two panels that swing open from the center and are typically referred to as French patio doors.
There is a degree of versatility to double hinged patio doors, as they can make a dramatic statement in your home, regardless of whether your style is contemporary or traditional. With French patio doors you have the option of an in-swing if you want the doors to open into a room. An out-swing option works well when the double patio doors lead out onto to a patio or deck.
Folding Patio Doors
We have covered single and double hinged patio doors, but there is another type of hinged patio door that could be what your home needs — bifold patio doors.
Pella's bifold patio doors are coveted for their efficiency, functionality and durability. These multi-panel doors fold and stack neatly to the side, giving you more space and creating a completely blended environment between your home's indoor and outdoor spaces.
Advantages of Sliding Doors:
In regards to sliding doors, the benefits include,
-A wide range of market options
-Offer a more contemporary style to your home as opposed to the "traditional" hinged door
-Usually, have additional features such as a sleek mirrored finish which is not an extra offered with hinged doors
-Are also often less invasive as they allow you to open sideways as opposed to outwards where they can intrude into another room
Ventilation: Most French doors, or other types of hinged patio doors do not include screens. Sliding patio doors almost always do. If your patio door is in the kitchen, we recommend sliding patio doors with screens because kitchens need ventilation. The best stove fan cannot ventilate as well as a window, and letting fresh air into your home has many health benefits.
Space Savers: Sliding patio doors move parallel to the wall and do not require designated space for operation. This is a major advantage for small interior spaces and CT decks. Swinging patio doors require more design consideration. Measure the width of the door and draw a semi-circle with that same radius. That is space that you cannot use. If you choose swinging patio doors, decide where you can afford to lose that space. If interior space is more limited, chose out-swinging doors. For example, Connecticut sunroom additions with doors to the outside usually swing outwards because sunrooms are small. However, beware that out-swinging doors are prone to more accelerated weathering if you leave them open. If outdoor space is more limited, choose in-swinging doors. This can be a better option for CT decks that are used for entertaining.
Disadvantages of Sliding Doors:
The problems of Sliding Doors include,
-Challenging to clean on the outside. Although cleaning them on the inside is relatively easier, sliding doors slide back and forth thus making it difficult to clean from the outside especially during winters.
-Have a higher risk of being damaged because doors can get stuck or jammed in between openings.
Operation: Sliding patio doors don't always slide as easily as you would like them to. The rollers can wear out and debris can accumulate in the tracks and increase friction. Even a brand new sliding door is difficult to operate when you are holding a tray of marinated meats to throw on the grill.
Size of Opening: Sliding patio doors do not fully open, whereas hinged patio doors can open to the full width of the door configuration. The wide useable space hinged doors provide might only be utilized on move-in and move-out day, but when you are moving large objects, hinged patio doors make it much easier.
Other Considerations:
Safety and Security: Patio doors are more vulnerable to security breaches than other types of doors because they are made of glass, and many are not equipped with modern locking mechanisms and other safety features. Patio door safety features should be a primary consideration regardless of the style you choose. For both types of patio doors, we recommend a multipoint locking system. We also recommend not just having, but also using a security system.
Style: It is difficult to compare French doors (or other hinged patio doors) to sliding patio doors because the styles are entirely different, but both are versatile.  Sliding patio doors are more modern, but they are incredibly versatile because they are not the focal point of a room. French doors are more traditional, but also suit any style of home. The room's d'cor, as well as the window treatments you choose (if any) contribute much more to the overall aesthetic of the room than the type of door itself.
Color & Appearance: Some homeowners are very particular about colors. Sliding patio doors usually come with fewer color options than swinging patio doors.
Energy Efficiency: Glass is never as good of an insulator as wood or fiberglass, but some types of glass are much better than others. Always check for energy star ratings, built-in weatherstripping, and Low-E glass.
Privacy: Sliding Patio Doors often come with internal blinds. Internal blinds give you the best control of lighting and privacy, without the hassle of cleaning.
Conclusion:
In conclusion, both hinged doors and sliding doors have their pros and cons. Essentially, if you are looking for something contemporary and relatively spacious, sliding doors may be a better option for you. If you are looking for something more traditional and you have a smaller patio, hinged doors may be a better suit for your home.
All in all, here at OneSource, we do our best to help you make an informed decision. For more information about our services contact us today! We understand that homeowners have many questions and we are always here to answer questions you may have! Let us help you make the most informed decision to help us turn your house, into a home.